EPR News
Brixton Hitman - Show Time - Wednesday - 9pm - 11pm (EST).
Special Mix - Show Time - Friday - 10pm - 12am (EST).
DJ English - Show Time - Saturday - 7:30pm - 10pm (EST).
Ital K - Show Time - Sunday - 2pm - 5pm (EST).
Brixton Hitman - Show Time - Sunday - 5pm - 8pm (EST).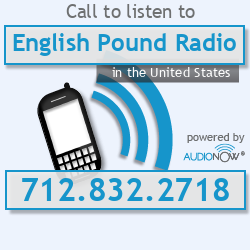 ~
For Audio Only
~Click the bars
English Pound Radio - LIVE PREVIEW - 24/7 REGGAE
To join our chatroom and watch our full screen - CLICK HERE -
ep~

AUDIO

Listen to all the latest interviews from some of the industries top stars and hit makers. Get to know more about the industry and artistes that you dance to.
Listen
ep~

LIVE

24/7 good music from some of the UK's top radio presenters. Playing non offensive songs for the whole family to enjoy, EPR is your household station..
Watch
ep~

PROMOTION

If you want exposure, then the EP Promotions page is where everyone goes to find the best events and business services. Advertise with us.
Look
ep~

BOOKINGS

To book any of the English Pound Radio presenters please visit our booking agent "Special Mix Management". You can also get more info on events there.
Bookings
It is important to pick and choose those with are
replica watches uk
done well. Getting a modified Rolex watch is pretty appealing. Handling them myself I got pretty excited about them. It is like taking
replica watches uk
something ultra popular and trendy, and giving it a special twist that makes them unique. The newest venture from Time and Gems is a DLC (Diamond Like Carbon) coated line of Rolex watches that are in all black
replica watches uk
cases with the original Rolex dials (to protect quality). The cases are the original Rolex cases that have been specially coated with the ultra tough material. You can click on the link above for a bit more information on DLC. In short, the material is very scratch resistant and
replica watches uk
wear resistant. The finish is a sort of matte. Time and Gems calls it "stealth finish." It mixes quite well with the naturally dark, high-contrast tones of the dials. The results are particularly
replica watches uk
impressive, and for most people they are something easily recognized as very desirable.