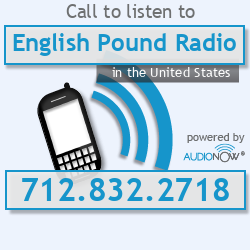 ~
For Audio Only
~Click the bars
English Pound Radio - LIVE PREVIEW - 24/7 REGGAE
To join our chatroom and watch our full screen - CLICK HERE -
ep~

AUDIO

Listen to all the latest interviews from some of the industries top stars and hit makers. Get to know more about the industry and artistes that you dance to.
Listen
ep~

LIVE

24/7 good music from some of the UK's top radio presenters. Playing non offensive songs for the whole family to enjoy, EPR is your household station..
Watch
ep~

PROMOTION

If you want exposure, then the EP Promotions page is where everyone goes to find the best events and business services. Advertise with us.
Look
ep~

BOOKINGS

To book any of the English Pound Radio presenters please visit our booking agent "Special Mix Management". You can also get more info on events there.
Bookings